Mister Minit Mobile Services Fleet is ready and able to fix your
automotive key and remote and garage or gate remote problems wherever you happen to be. As the industry leader in automotive car key and remote duplication we offer a wide array of services.
We can assist with most vehicle makes and models and have
access to quality genuine and aftermarket products. Our team offers fast and reliable services to customers and B2B services with trading pricing. Contact one of our experts and we'll come to
you.
LOOKING FOR CAR KEYS? AT MISTER MINIT WE COME TO YOU! CONNECT WITH OUR MOBILE SERVICES FLEET 1800 766 000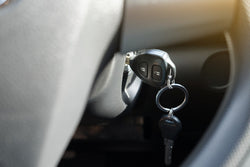 CAR KEYS
If you're in need of a new car key, Mister Minit can help. We offer precision cut and programmed keys for both cars that require transponder chips and those that don't. We also have a great selection of look-a-like keys that are reasonably priced and keep the design of your car's genuine factory key. Whether you're looking for a simple emergency key or a full-fledged replacement, we can ensure you have the essential spare key to keep you on the road.
MOTORBIKE KEYS
Mister Minit offers high quality motorcycle key replacement for both Motorbikes and Scooters requiring Transponder chips and those that do not.
Our look a-like range also offers the customer a reasonably priced motorcycle or Scooter key while keeping the design of the genuine factory key.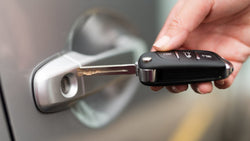 INTEGRATED KEYS AND REMOTES
If you're looking for a
way to consolidate your key and remote into one convenient unit, Mister Minit
has you covered with our new flip key range.
With our new key
duplication equipment, we can program your flip key to work with your specific
make and model of car, making it easier than ever to have the perfect key for
your needs. Whether you're looking for a genuine factory key or remote, or a
high-quality aftermarket option, Mister Minit is your one-stop shop for all
your car key needs.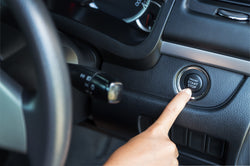 PROXIMITY KEYS
If your car has a push button start or a proximity key, then you may be wondering how to go about
programming it. Here at Mister Minit, we have the equipment and expertise to
program these keys to your vehicle's system. We can also duplicate existing keys,
so that you have a backup in case of loss or damage.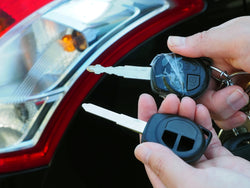 CAR KEY SHELLS
If your car key shell has been damaged, the blade has broken off, or it is simply worn over time, a replacement key shell from Mister Minit might be a cost-effective alternative. Our team can remove the still-working internals from your original damaged car key and place them into a brand new shell, extending the life of your original key.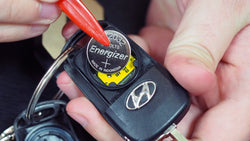 CAR KEY BATTERY REPLACEMENT
Mister Minit also offers professional Battery Replacement services for Watch Batteries, Car Keys and Garage Remote Batteries. We use only Energizer batteries which come with a 1 year warranty.
For a cost-effective, professional solution to your broken or damaged car key, visit Mister Minit today. We can have you back on the road in no time.
Transponder Keys Explained
During the 1990s car theft around Australia had become a major issue for police, insurers and car owners. Thieves could steal a car in minutes.
The introduction of transponder keys by car manufacturers required the coded chips to start the car. This process started in the late 1990's and all cars sold in Australia since 2000 have a transponder key for security.
Today's keys are made up of three separate functions working together:
1. Modern key blades require specialised precision tooling to ensure a perfect cut required by modern ignitions.
2. The transponder chip that is fitted within the key allows the vehicle to start and can be duplicated in two ways CLONING or PROGRAMMED. Cloning is the most common form of transponder duplication but both forms do require specialist duplication devices. Mister Minit invests in top of the line equipment to ensure your key is duplicated to the highest standard.
3. The central locking process consists of a new remote being introduced to the vehicles BCM (body control module) and can be done either manually or diagnostically. With vehicles makes and models changing annually Mister Minit must also update our diagnostic tool to ensure we can cut and program a broad range of car keys.
Mister Minit has the specialist equipment and expertise to duplicate your car key. The YEAR, MAKE and MODEL of your car will determine the type of transponder chip your key contains so it is helpful if you can have this information handy, along with your key, when you come into a Mister Minit store for a duplicate.
FAQ's
Most Mister Minit stores have the equipment to make key/fob's for push button start cars.
The majority of the time making a spare key does not take long at all, most cars keys will take around 30min to cut and program, just enough time to pick up some shopping or grab a coffee.
Even if you are the only person driving the car having a spare key is very important.
When your car keys are lost this turns into a time consuming and expensive process. Getting the codes to cut the blade, programming new keys using specialist tools and the added trouble of your car being stuck somewhere will make getting a new key a major hassle.
Duplicating a spare key from your original is as simple as heading down to your local Mister Minit and walking away with a spare.
You'll need the key you want duplicated and, if possible, the year, make and model of your car which will help us with the precision key cutting and transponder programming.
These days cars require the keys to be learnt to your car using the dignostic programming. You should bring the car that needs the key presision cut and programmed.
Mister Minit has a mobile services fleet were we can come to you. Contact 1800 766 000 for your nearest mobile or contact your local Mister Minit shop for advice.